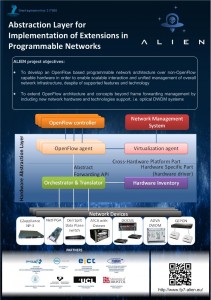 Three ALIEN demonstations are planned on the FIRE booth during Future Internet Assembly in Athens (18-20.03.2014) to show main project achievements thus far:
Demo 1 – Video on Demand in OpenFlow networks.
It demonstrates the first successful deployment of the ALIEN's Hardware Abstraction Layer (HAL) for EZchip NP-3 and Intel platforms with DPDK processors. In the demo end users' applications are running in the OpenFlow-controlled network environment empowered by the latest HAL release for non-OpenFlow network equipment.
Demo 2 – Distributed and Version-agnostic OpenFlow slicing mechanism.
In this demonstration we present preliminary results obtained by deploying and using a novel OpenFlow-based network virtualization mechanism. The mechanism is based on the ALIEN's Hardware Abstraction Layer (HAL) and is able to run on multi-version OpenFlow scenarios. The objective of the demonstration is to show how the proposed network virtualization approach, which relies on the HAL's plugin called Virtualization Agent (VA), allows: (i) multiple versions of the OpenFlow protocol to be used at the same time to control the same physical infrastructure, (ii) IPv6 and IPv4 multicast streaming experiments to be performed on different virtual networks without interfering each other and (iii) virtual networks to operate even in case of failure of one of the VA instances.
Demo 3 – Integration of legacy DOCSIS access network under OpenFlow control .
This demonstration shows how Openflow can be deployed over a legacy DOCSIS access network, exposing a unique Openflow interface and behaving as Openflow-enabled switch, hiding DOCSIS required configuration details. The HAL used in this proxy and the orchestrator module are able to translate Openflow messages incoming from the controller into required actions over the different devices of the network involved.
The booth will be open during the following exhibition hours:
Tuesday 18 March 2014 – 2pm – 6pm
Wednesday 19 March 2014 – 9am – 6pm
Thursday 20 March 2014 – 9am – 2pm
For more info visit: FIA 2014 Exhibition