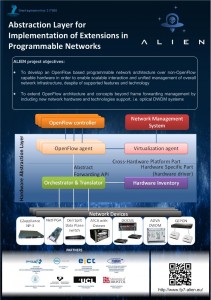 Three ALIEN demonstations are planned on the FIRE booth during Future Internet Assembly in Athens (18-20.03.2014) to show main project achievements thus far:
Demo 1 – Video on Demand in OpenFlow networks.
It demonstrates the first successful deployment of the ALIEN's Hardware Abstraction Layer (HAL) for EZchip NP-3 and Intel platforms with DPDK processors. In the demo end users' applications are running in the OpenFlow-controlled network environment empowered by the latest HAL release for non-OpenFlow network equipment.